Pastries at Fuji Bakery are close to perfection. Here are pictured the Tarte Tatin and the Tarte au citron. They are amazing. They are as delicious as they are beautiful!
Bakers at Fuji Bakery pay attention to every detail and the result is stunning.
Don't forget Plain Croissants and Chocolate Croissants that are perfectly flaky.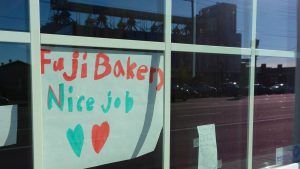 The building on Elliott Avenue is like a factory outlet but it is easy to park, they have their own parking lot.
I just wish it was closer to my house.
— Fuji Bakery has two locations: one in International District (526 S. King St.) and one in Interbay (1030 Elliott Ave. W).