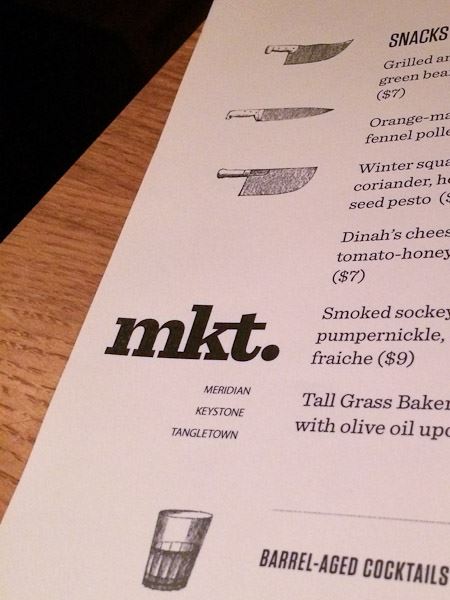 Mkt. is one of the latest Ethan Stowell restaurants. Situated south of Green Lake, its name comes from the neighborhood name and streets: Meridian, Keystone & Tangletown.
We went there this week for the first time and it was a great surprise. The dishes on the menu were all very appealing and I could not decide what to order. The meats, fish and veggies were all tempting. We ended up with 4 dishes to share:
– Dungeness crab, endive, fennel, and apple salad
– Grilled rabbit & frisée bacon salad
– Vegetable tajine, dates, and preserved lemon
– Smoked mushroom, sweet potato gnocchi with crispy shallots
It was full of flavor and you could feel the attention to detail in each dish. Everything was so tasty that we had to have a look at the desserts menu and… The blood orange sorbet was amazing!
My pictures are not very good so I highly recommend you to go there and share yours!