Skillet serves good comfort food but be aware that portions are not big, they are huge. Be prepared and go there hungry!
We went there for dinner. I had a delicious pot roast. The beef was tender and moist, exactly as it should be. Veggies and mashed potatoes were tasty. The braised duck leg was also perfectly cooked and very good. My kids had the poutine and grilled cheese and loved them. I know Québécois would say it is not real Poutine like in Montreal but it is still good.
Skillet is well known for brunch, fried chicken and waffles, and cinnamon rolls… but we have never been there for brunch or breakfast. So if you go, let us know what you think.
There is one thing that I did not like: all four beverages, apple juice, coke, beer, and the red wine were served in Mason jars!
A long time ago, I wrote a post about the fact that I did not like having a mason jar as a glass.  Now, I find it ok to have a jam jar instead of a real glass with tap water but Red Wine… Really? Yes, the jar in the foreground is filled with red wine…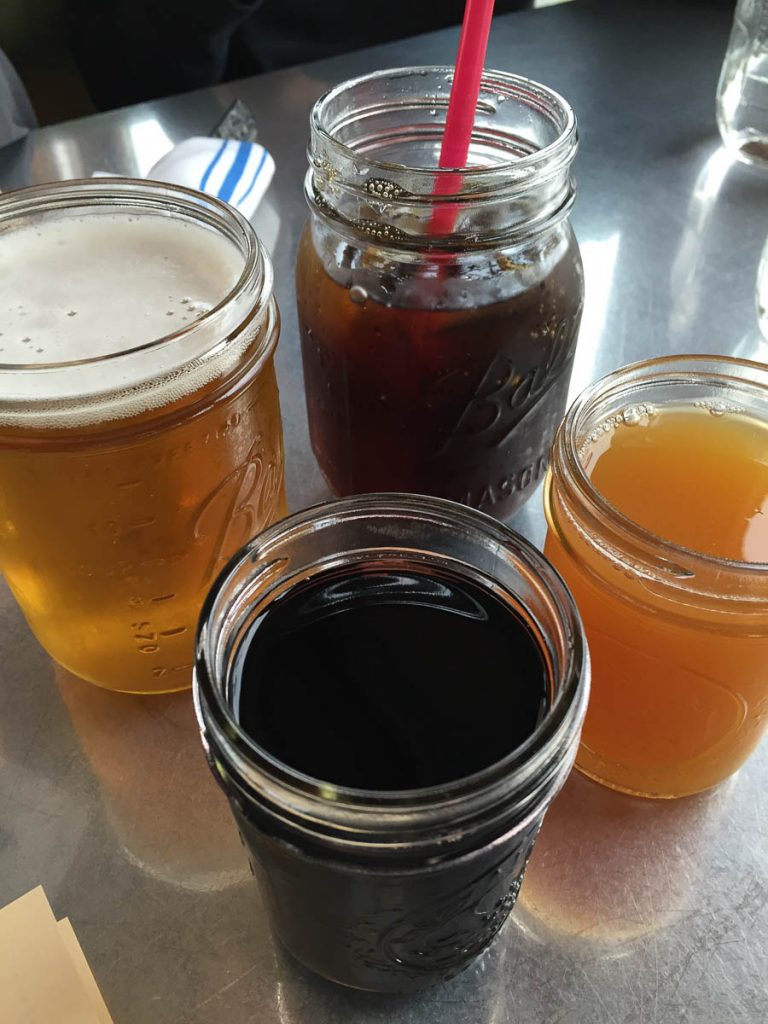 After that, if you still have room for ice cream… Parfait Ice Cream is just next door. Check here.
There are four locations: Ballard, Downtown, Capitol Hill, and in the food court at the Armory in Seattle Center
And check out the Food Truck. It may stop by in your neighborhood:  Skillet food truck
— Skillet in Ballard :
2034 NW 56th Street
Seattle, WA 98107
(206) 922-7981